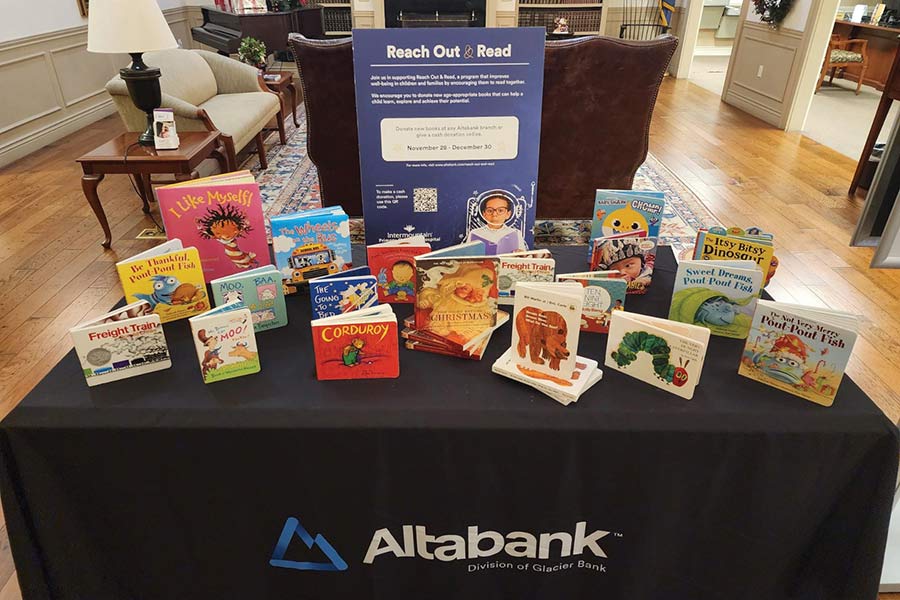 Altabank™ Conducts Yearly Book Drive for Intermountain Healthcare's Reach Out and Read Program
Reach Out and Read is all about unleashing the joy and potential of each child," says Dr. Neal Davis, a pediatrician with Intermountain Healthcare. "The program includes giving an age-appropriate book to children during all well-child visits from six months of age to five years old; a total of nine visits as a child grows and develops through those critical early years."
Altabank shares IHC's passion for helping children grow and thrive, so in 2020, Altabank made a five-year, $500,000 funding commitment to ROR. In addition, Altabank further supports ROR by conducting an annual holiday book drive, inviting members of the community to purchase and donate books at any of Altabank's 24 branches. This year's book drive runs from November 28 to December 30.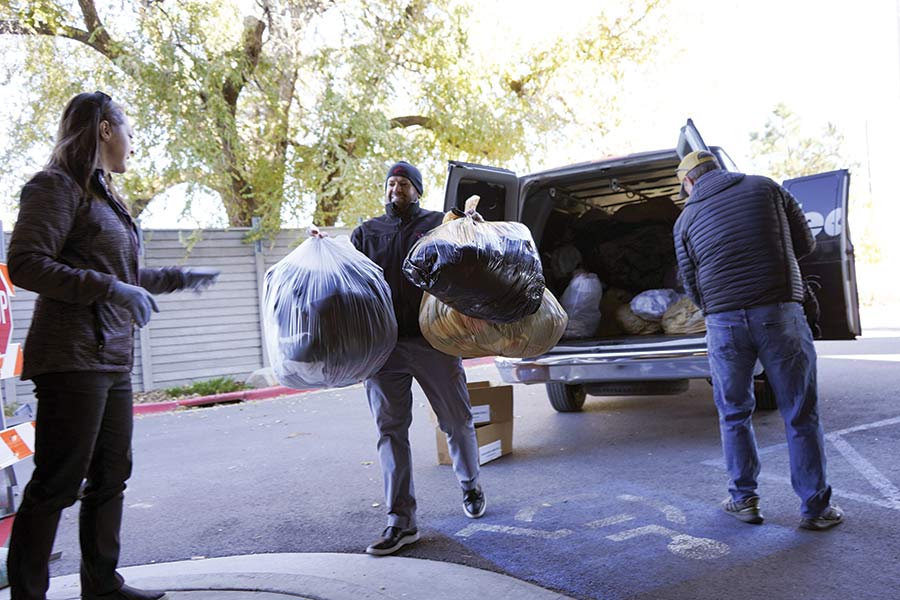 Bank of Utah Delivers Over 450 Bags of Warm Clothes to Charity for the Holidays
Bank of Utah and their partners Arctic Circle Restaurants and Red Hanger conducted the tenth annual Warm Bodies, Warm Souls clothing drive from October 17 thru November 11, collecting 460 bags and barrels of winter clothing and $5,400 that was distributed to 12 Utah charities. "This year, with a tightening economy and people worried about expenses, we feel extra grateful for those people from Tremonton to St. George, who gave all they could and then some to help those in need," said Roger Christensen, SVP, Business Development and Communications at Bank of Utah.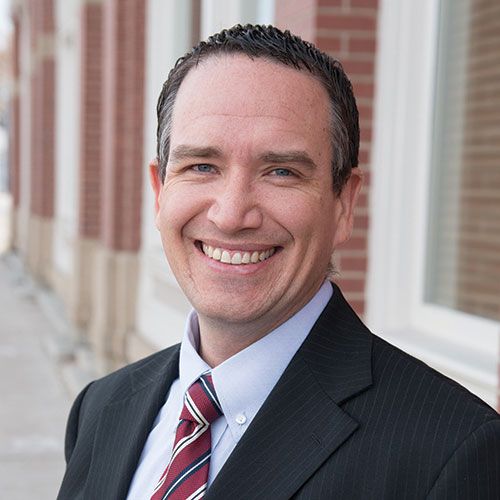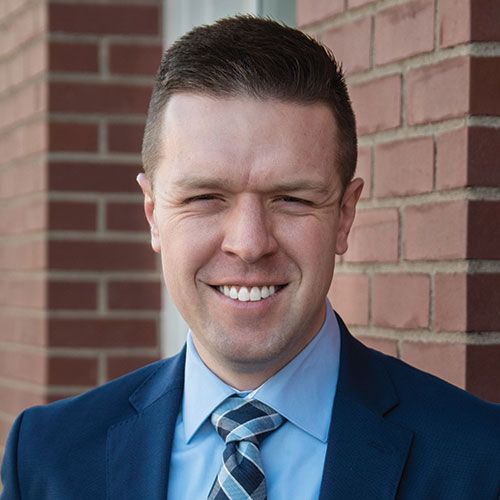 First Community Bank

Congratulations to Bryan Jack, EVP CFO, and Brady Stratton, SVP Marketing Officer, from First Community Bank Utah, Division of Glacier Bank, for graduating from the Pacific Coast Banking School in Seattle, WA. Stratton graduated with honors and had his senior management paper published in the PCBS/University of Washington library.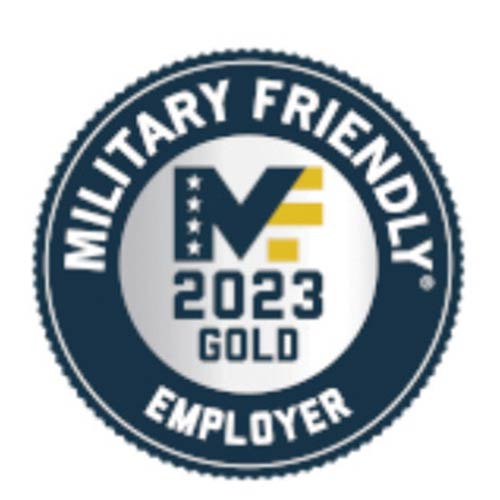 Parcel Post Ribbon Cutting
KeyBank Honored as a Military-Friendly Organization

KeyBank was recently honored as a 2023 Military Friendly Employer from Military Friendly. The designation measures the standards of an organization's commitment, effort and success in creating sustainable and meaningful career opportunities for the military community. KeyBank fosters a diverse, equitable and inclusive workplace and has a longstanding tradition of supporting military employees, families and veterans.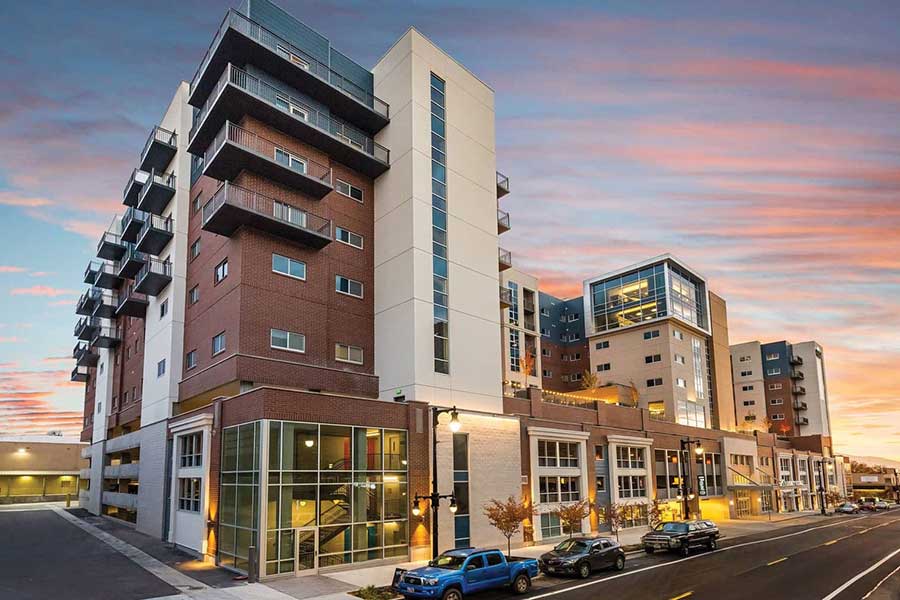 KeyBank Provides $68.3M Refinancing for Seniors Housing Property in Salt Lake City
KeyBank Real Estate Capital has arranged a $68.3 million permanent loan through Freddie Mac for The Woodbury Corp., Colmena Group and Western States Lodging. The loan refinances existing debt on Legacy Village of Sugar House, a senior housing property within the master-planned Sugar House neighborhood of Salt Lake City. The 10-story Legacy Village of Sugar House features independent living, assisted living, and memory care units, as well as retail space, parking and commercial space. Morgin Morris of KeyBank structured the 10-year, fixed-rate loan with an initial five years of interest-only payments.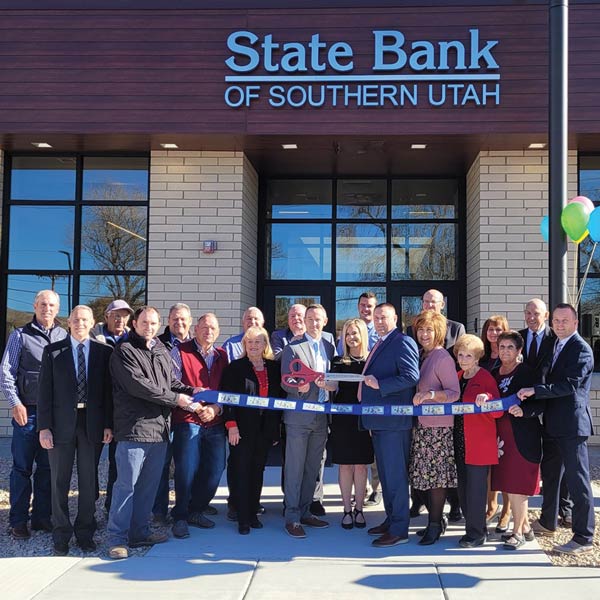 State Bank of Southern Utah Builds in Gunnison Valley

State Bank of Southern Utah built a beautiful new branch on Gunnison's Main Street and celebrated its Grand Opening on Nov. 22, 2022. State Bank of Southern Utah acquired Gunnison Valley Bank in 2019, operating in the same building since 1909. This new 9,600-square-foot building will improve the Gunnison Valley banking experience with enhanced technology throughout the building, including a fingerprint scanner that allows access to safe deposit boxes without a key. The building includes a large conference room and an outdoor pavilion available for community use.
"State Bank was founded with a mission to provide community banking that helps individuals and businesses grow and succeed," said Eric Schmutz, CEO of State Bank of Southern Utah. "We are excited to continue expanding our services in the Gunnison Valley."
Zions Bank Recognized as a Top Employer

Zions Bank was honored among 90 of the Best Banks to Work For in the November 2022 issue of American Banker magazine. Zions Bank is listed as No. 4 among large banks and No. 58 overall. Honorees were selected through surveys measuring employee satisfaction, policies and employee benefits.
Additionally, Zions Bank was recognized in October with The Salt Lake Tribune's "Top Workplaces 2022" designation. Zions Bank is listed as No. 20 among Large Businesses. According to The Tribune, employee feedback is the only criterion to determine which employers make the list.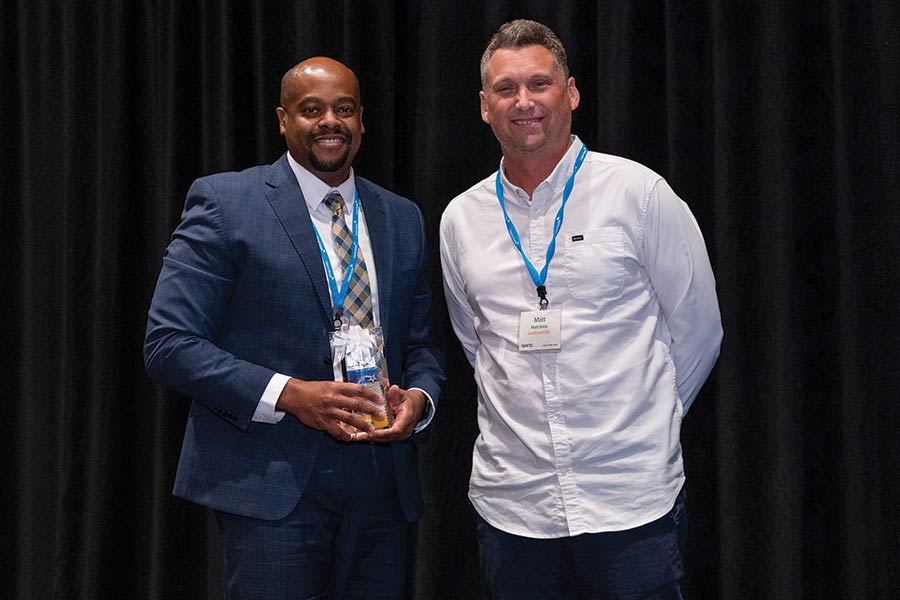 Zions Bancorporation Named Regional Bank 504 Lender of the Year
Zions Bancorporation ranked second in the U.S. for the number of U.S. Small Business Administration 504 third-party loans approved during the fiscal year 2022. Through its affiliate banks and branches in 11 Western states and its National Real Estate division, Zions provided $189.6 million in third-party approvals for 185 loans across the country.
For its lending achievements, Zions has been named 2022 Regional Bank 504 Lender of the Year, the National Association of Development Companies announced on October 27. Zions' National Real Estate division was recognized with a 504 Community Impact Award on November 16.
Zions' National Real Estate division uses referral sources from more than 300 banks and other lenders to originate or purchase commercial real estate loans – including SBA 504 loans – that may be outside their lending parameters or capacity. The division has seven experienced business development officers, with locations in Atlanta, Brooklyn, Dallas, Los Angeles, New York, Reno, Salt Lake City and Seattle.
"In the early 1990s, Zions Bank's National Real Estate Department became a pioneer in originating loans through local banks nationwide," said Harris Simmons, chairman and CEO of Zions Bancorporation. "Today, we're proud to be a leading nationwide small business commercial real estate lender.