The 115th Annual UBA Convention returned to the beautiful Sun Valley Resort June 25-28, 2023. A little inclement weather couldn't dampen the collective mood as more than 400 bankers, guests and business partners gathered to reconnect with friends and colleagues, with a bit of a look back at the turbulent events of recent months while also looking ahead at trends and new technology that will affect the industry's future.
The event kicked off with registration in the Exhibit Hall on Sunday afternoon as bankers and their families connected with more than 45 exhibitors, learning about their products and services while also enjoying fun games and picking up some amazing swag.
Dave DeFazio of StrategyCorps led the Monday Business Session, providing an overview of new technologies — including the Pay Ring, Amazon One, AI and others — that are disrupting the market by creating new ways to connect and deliver excellent customer experiences. Joe Sullivan from Market Insights gave a thought-provoking talk about the evolving demographic landscape, both in Utah and nationwide, and how those shifts will affect everyone in your organization. Hannah Packard from Central Bank — and this year's Emerging Bank Leaders Chair — capped off the morning with an EBL update, highlighting the positive momentum the group has built over the past year.
Attendees enjoyed lunch on the Lodge Terrace, which featured plenty of sunshine, prize giveaways and an introduction to Celeste Maloy, Republican candidate for Utah's upcoming special election in the 2nd Congressional District. Following lunch, bankers dispersed to breakout sessions that addressed topics like blockchain, employee engagement, AI and balance sheets.
Then it was time for some "friendly" competition with the world-famous UBA bingo game! Nearly 600 participants packed the Inn's Limelight Ballroom to compete for some fantastic prizes, including wireless speakers, electric scooters, pickleball sets, hammocks, gift cards and more!
Tuesday was Activities Day with attendees and family members partaking in a Fun Run, white water rafting, a golf tournament, horseback riding, trap shooting and a pickleball tournament!
Later that evening, UBA Chair Matt Bloye (Wells Fargo) and ABA Chair Dan Robb (Jonesburg State Bank) were honored at the Chairman's Reception & Dinner. To add to the festivities, Chairman Robb was also celebrating his wedding anniversary and birthday, for which he was presented a cake and serenaded by the crowd.
After dinner, six bankers were presented with 40 Year Service Awards (see below). UBA Chair Matt Bloye, Immediate Past Chair Eric Schmutz, UBA Board Member Brad Baldwin and Emerging Bank Leaders Chair Hannah Packard were also recognized for their service to the UBA and the industry.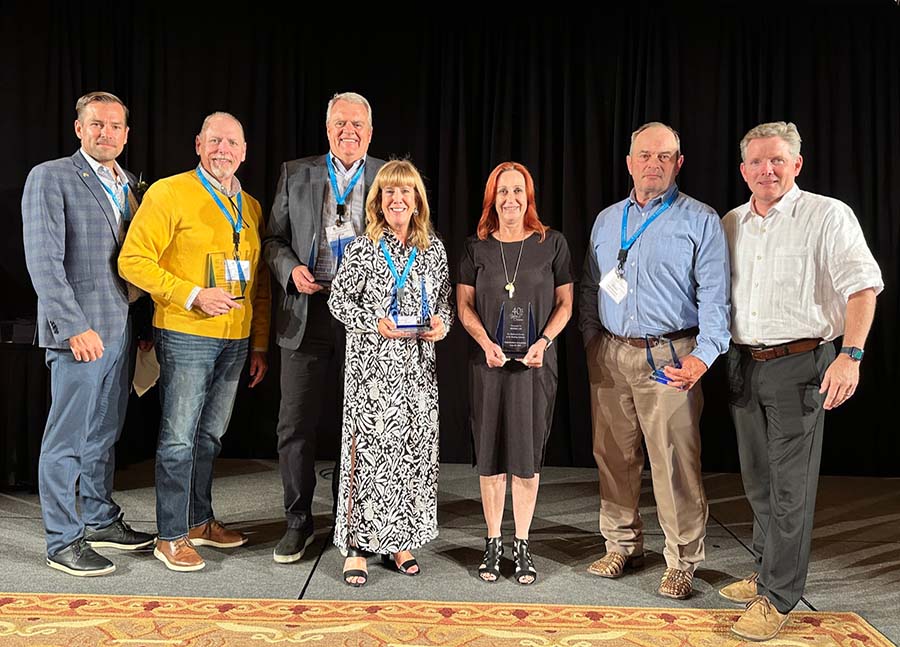 40 Year Service Award Honorees
Dan Balls — Vice President, Cache Valley Bank
Roger Christensen — Senior Vice President, Marketing, Communications & Business Development, Bank of Utah
Lew Goodwin — CEO, Square Financial Services
Jean John — Vice President, Administration, First Utah Bank
Monika Lee — Private Banking Regional Manager, Zions Bank
Brad Peterson — Senior Vice President, Cache Valley Bank
Comedian — and Idaho native — Ryan Hamilton closed out the night, cracking up the 400+ attendees for more than an hour.
Wednesday's Business Session brought the convention to a close. ABA Chair Dan Robb provided an overview of the current issues of focus for the ABA, also reminding the group, "Our customers are our most valuable assets." Joan Woodward, President of the Travelers Institute, provided an economic outlook and sneak peek at the 2024 Presidential Race, and JP Nicols of Alloy Labs offered a look ahead, noting, "The future of banking is bright, but you have to seize the moment."
Then, it was time for the annual membership meeting in which the assembled bankers elected the 2023-2024 UBA Board of Directors, including Andrea Moss (President and CEO, Nelnet Bank) as Chair (see page 8 for the complete list). Moss then introduced the convention's final speaker — Dan Meers, aka the KC Wolf, mascot for the Kansas City Chiefs. He shared his story of more than 30 years in a mascot costume, how a traumatic injury in 2013 put everything into perspective for him, and how he lives every day guided by his faith, family and making a positive impact in the world: "Your life is like a coin. You get to spend it however you like, but you only get to use it once … so spend it wisely."
The 116th Annual UBA Convention will return to Sun Valley June 23-26, 2024.