In this era of digital banking, it may be surprising just how many people still write checks — and why. Just as surprising is the lost opportunity financial institutions face by missing out on check order capture at account opening or leaving it up to third-party providers to drive check reorders. There's money being left on the table, and the revenue potential of check programs is being downplayed.
The Value of Checks
Recent research has revealed some eye-opening trends with check writing:
The vast majority of Americans use checking accounts, with only 6.5% of households being unbanked(1)
14.5 billion checks are still being written each year(2)
"Order Checks" ranks third in the top 10 search terms on bank and credit union websites(3)
What does all this mean for the financial institution? It means that while checks as a payment method continue to decline, consumers are still writing checks. The average household balance by the number of checks written each month increases based on how many checks are written.(4) Furthermore, customers who order checks from their financial institution hold higher total household balances.(5) A customer's affluence is also more highly correlated to check writing than to age. Regardless of age, as income increases, so does check utilization.
Avoid Missed Opportunities
Given these findings, it's in the best interest of financial institutions to ensure new customers order checks when they first open an account, regardless of channel. Not ordering checks at account opening is inconvenient for the customer — and it represents significant lost revenue for the financial institution.
How much lost revenue? For an average-sized institution that opens 1,000 new accounts per month, providing the remaining 70% of new customers with check orders (and assuming average per-order revenue and reorder cycles over the lifetime of those accounts), the total would be $400,000.(6)
Harness the Potential
The big question most financial institutions have is how to reach potential check writers to harness the revenue potential they represent. Doing so requires a comprehensive program of best practices that includes five main performance components.
Order capture — Without securing the first check order at account opening, future opportunities are compromised. Fee income, cross-sell, up-sell, reorders — all are potentially lost. The most important step a financial institution can take to improve order capture is to ensure new account representatives — and other employees — understand the importance of check capture. Employees at all levels must be aware that the vast majority of consumers still use checks. This should be included in training and materials — and underscoring the importance of check writing in defining primary financial institution relationships should be a priority. Another important step is to ensure that checks are a clearly defined part of the account opening process. The number one reason customers don't order checks at account opening is because they were never asked.(7)
Channel optimization — Once the initial check order has been captured, branch employees should not spend another minute on check orders. This frees them up to do other tasks and improves the overall efficiency of the branch. Instead, customers should be moved to self-service channels to place reorders of checks. In addition to improving branch efficiency, online and phone channels can introduce products and services that branch employees may not. Additionally, there is a significant increase in average order value (AOV) when customers go online to place their own reorder.(8)
Marketing — Checks, checkbooks and check delivery vehicles can all be used as marketing tools designed with engagement in mind, branded to promote your financial institution's colors, look and feel. Consistency in branding is key, as the average revenue increase attributed to always presenting the brand consistently is 33%.(9) Custom designs that represent the community, local organizations and charitable causes can be utilized to drive check orders and reinforce the financial institution's standing in the community. It also gives high message visibility, frequency and longevity. Every time a check is written or a new check pad is accessed, an impression is made. The impressions repeat over the lifetime of the check order.
Cross-sell and Up-sell — If nearly $1 million in lifetime revenue isn't incentive enough, consider the lost cross-sell and up-sell opportunities. Remember that check writers buy an average of two more products and services from their financial institution than non-check writers. Best-in-class print technologies provide full color, customized financial product messages targeted to specific account types. Harland Clarke's CheckFolio packaging, introduced a few years ago, can accommodate full-color messaging for financial institutions to showcase the services most important to them.
Security — A 2019 ABA survey reported that check fraud accounted for 47%, or $1.3 billion, of industry deposit account fraud losses(10) affecting multiple generations, including Millennials and Baby Boomers.
In addition, $432.4 million in fraud was reported to the FTC through the end of March 2020.(11) In light of this reality, check security, especially for your high-value, loyal check writers is very important. The proliferation of mobile banking also means customers want to know what kind of mobile security features your financial institution utilizes and what type of support they have access to in the event they become a victim of check fraud. In fact, 22% of consumers surveyed said they would use mobile capture more frequently if they had a better assurance that their checks had been deposited securely.(12) Ensuring your check program focuses on security and that your institution effectively communicates any security-related features to your customers gives them peace of mind, delivers a better customer experience and builds loyalty.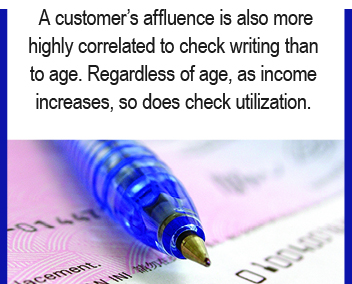 The Bottom Line
Check writers are critical to the profitability of a financial institution. They are loyal, have more investable assets, and buy more products and services from their financial institution. It's essential to embrace them at every level of the organization. Most importantly, check ordering should be included with each account opening. It not only provides customers with a product they need — but it also ensures they purchase it from YOUR financial institution. This opens new marketing channels to cross-sell and up-sell financial products and services over the lifetime of the account.
With 14.5 billion checks still being written each year,(13) it's a demographic few financial institutions can afford to ignore. 
Contributed By Harland Clarke
(1) Eneriz, Ashley, "What Is a Checking Account?" GoBankingRates, June 2020
(2) The 2019 Federal Reserve Payments Study
(3) Haskins, DJ, "The Top 20 Terms Consumers Use on Banking
Websites," BAI, June 2019
(4) CE Solutions check industry research
(5) Ibid.
(6) Harland Clarke 2020 Data
(7) Harland Clarke Internal Client Study
(8) Ibid
(9) Dopson, Elise, "Brand Consistency — The Competitive Advantage and How to Achieve It," Lucidpress, November 2019
(10) ABA 2019 Deposit Account Fraud Survey
(11) Tableau public
(12) Cocheo, Steve, "Key Customer Experience Trends in Mobile Photo Deposits," The Financial Brand, February 25, 2020
(13) 2019 Federal Reserve Payments Study