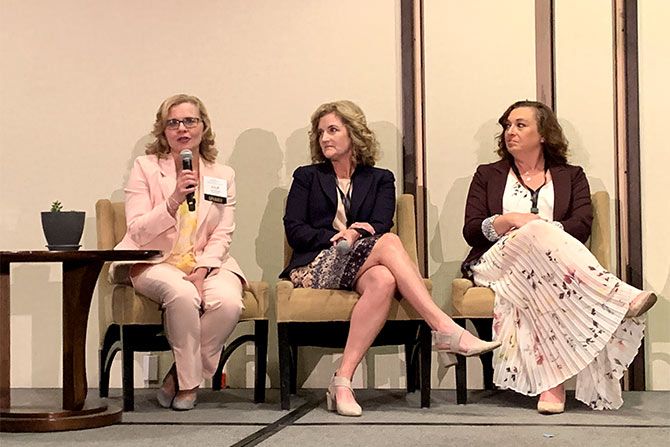 The Utah Bankers Association hosted its 17th Annual Women in Banking Conference on April 14, 2022. With nearly 150 attendees at the Salt Lake City Marriott University Park and over 300 more joining on Zoom, it was our largest Women's Conference yet.
Everyone enjoyed a day of networking, camaraderie, education, and motivation, plus a lineup of speakers that had it all.
Dr. Susan Madsen, Founding Director of the Utah Women & Leadership Project at Utah State University, kicked off the
conference by discussing why we need more women leaders and how to strengthen the impact of women and girls in the state. Phil Dean from the Kem C. Gardner Policy Institute provided an overview of the economic impacts of COVID, while Jackie Rolow from Shazam provided best practices for having tough conversations in the workplace.
Sui Lang Panoke, Senior VP, Diversity. Equity. Inclusion. at Zions Bank, hosted a panel of the majority female executive
team at Nelnet Bank. Each woman discussed their path to the top, the benefits and pitfalls of being women at the helm, and what they've learned along the way.
Emotions ran high at times, as Makenna Myler – ASICS Professional Distance Runner – and Candace Rivera – CEO & Founder of Exitus – shared their personal stories of overcoming obstacles and finding a work-life balance while being role models in our community.
Makenna went viral after running a 5:25 mile while nine months pregnant and later qualified for the 10k in the Olympic
Trials, an inspiration to what women can achieve when they are determined and supported.
Candace literally stepped off a plane from the war-torn streets of Ukraine to speak, recounting the sights and stories of
abandoned orphans and young children walking across borders without adults in tow. She went on to empower the audience to realize their worth and know that they "belong at the table."
With an impressive collection of awards and recognitions, Viola Llewellyn – co-founder and President of Ovamba Solutions, Inc. – offered fascinating insight into how some cultures view finances and impressed upon us that our communities are made up of a myriad of potential customers from an unimaginable range of cultures and countries of origin.
"I was thoroughly impressed by each of the guests today," said one attendee. "They have given me new heights to aspire to."
We hope you will join us next year!