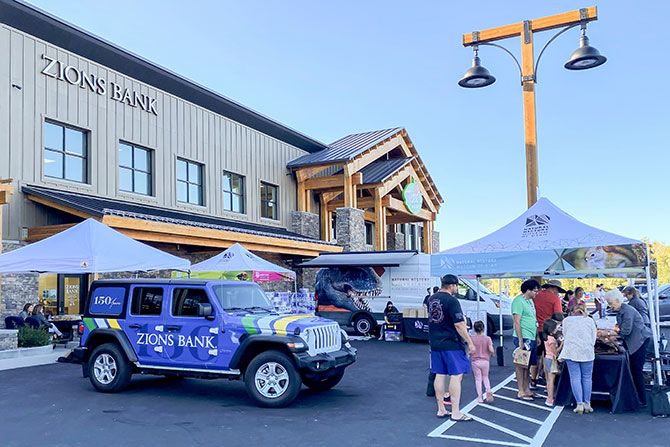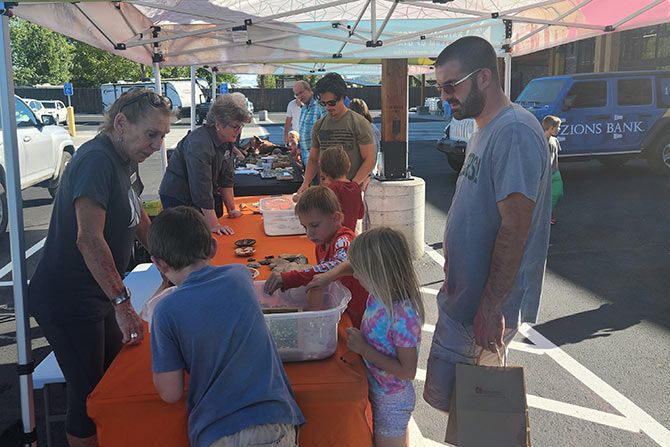 ZIONS BANK
Zions Bank and Natural History Museum Host Community Science Night
Zions Bank partnered with the Natural History Museum of Utah to host a Community Science Night in Garden City in September. The community event featured interactive stations, hands-on activities and touchable specimens.
In conjunction with the community event, a traveling "Soil Stories" exhibit was on display at the Bear Lake Garden City branch during the month of September as part of its multi-county tour across Utah.
For more than 20 years, the Natural History Museum of Utah and Zions Bank have partnered to bring natural history collections and research to Utah's diverse communities. Each year, a team of educators, exhibit designers, bankers and museum volunteers create a new traveling exhibit that explores a unique aspect of natural history in the state, region and beyond.
BANKING SCHOOL GRADUATES
Congratulations to the Pacific Coast Banking School's Class of 2023, including the following bankers from Utah:
Michael Baum — Altabank
Wade Henderson — Altabank
Eric DeFries — Bank of Utah
Brian Stevens — Bank of Utah
Brian Gurney — Central Bank
Amy Foulks — First Utah Bank
Dan Bennett — Hillcrest Bank
Amanda Clark — TAB Bank
Wes Barkell — Zions Bancorporation
Matthew Strout — Zions Bancorporation
Bradley Herbert — Zions Bank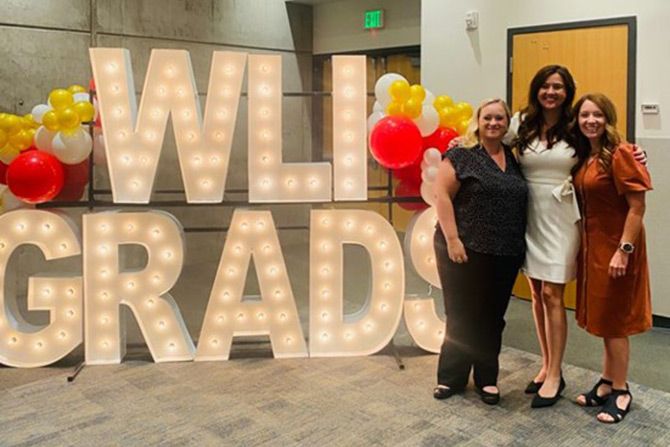 ALTABANK
Altabank marketing managers Lindsay Gehman (center) and Kinsey Love (right) recently completed the Women's Leadership Institute Career Development Series. This eight-month program included sessions covering topics from leadership psychology and bias to mentorship and advocacy.

KEYBANK
KeyBank Hosted Homeownership Workshop in Partnership with Calvary Baptist Church
KeyBank, as part of its commitment to advancing economic equity and inclusion, hosted a home ownership workshop in partnership with local member churches of the National Baptist Church Convention, the nation's oldest and largest African American religious convention. The partnership addressed the Black homeownership gap in Utah by providing recurring opportunities to learn about pathways to homeownership and connecting attendees with local subject matter experts at KeyBank.
"At KeyBank, we know homeownership is instrumental to building wealth and are committed to providing access to and knowledge about pathways to homeownership," said Brianna Adams, Corporate Responsibility Officer for KeyBank Utah. "We are grateful to partner with Pastor Oscar Moses and other Utah faith leaders to provide additional resources to the community."
"We are excited and appreciative of the newly established partnership between Calvary Baptist Church and KeyBank," said Pastor Oscar Moses, Calvary Baptist Church. "This is a great opportunity to advance economic education, equity, inclusions and to create generational wealth within the African American community."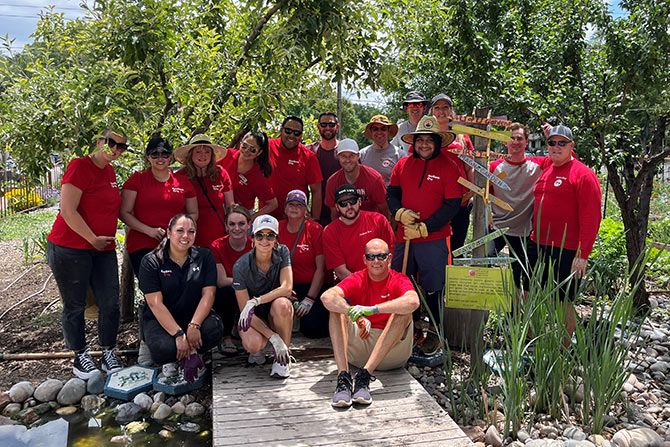 KeyBank Teammates Volunteer on 32nd Annual Neighbors Make the Difference Day
KeyBank hosted its 32nd Annual Neighbors Make the Difference Day® this past June. Throughout the day, teammates in Utah stepped away from their desks to volunteer with community organizations and service projects in the region. They joined thousands of KeyBank teammates nationwide in receiving paid time off to volunteer in the neighborhoods where they live and work, with more than 16,000 volunteer hours spent in the community nationwide and more than 460 hours in Utah.
Neighbors Make the Difference Day launched in 1991 with a group of KeyBank employees in Alaska who volunteered for service projects. By 1993, KeyBank extended the concept to many of the communities it served, making it an official day of employee volunteerism. Now, Neighbors Make the Difference Day is a hallmark program and is the leading corporate volunteerism effort in America, showcasing KeyBank's commitment to communities.
"We all love our community and take pride in … supporting our neighbors," said Drew Yergensen, KeyBank's Utah Market President and commercial banking team leader. "We are proud to carry on the tradition of coming together as one to dedicate our time and talent, brighten lives and help transform our community in a meaningful way."
KeyBank Launches Neighbors First Credit
KeyBank recently announced the launch of its third Special Purpose Credit Program — KeyBank Neighbors First Credit — which can help make the dream of home ownership a reality for homebuyers in underserved communities by providing credits up to $5,000 to be used for closing costs and to prepay costs that may come with a new home. This includes mortgage, flood and hazard insurance, escrow deposit, real estate taxes and per diem interest.