ALTABANK LAUNCHES BUSINESS ACCELERATOR PROGRAM WITH UTAH VALLEY CHAMBER
Altabank and the Utah Valley Chamber of Commerce have partnered to create a comprehensive "Business Accelerator"
program to meet the needs of growing businesses in the area. The program is currently fielding interest for cohort sponsorships and executive participants and is encouraging all Chambers of Commerce in the Utah Valley region to get involved.
The proven 10-week, content-rich business strategy program will launch two sessions, one from August to November this year and another from January to April in 2023. The program will meet on Wednesdays from 9-11 am and include lunch each week.
Graduation for the Business Accelerator program is expected to be attended by local dignitaries and leaders, wishing those who completed the program the best as they take their learnings to grow their businesses even further.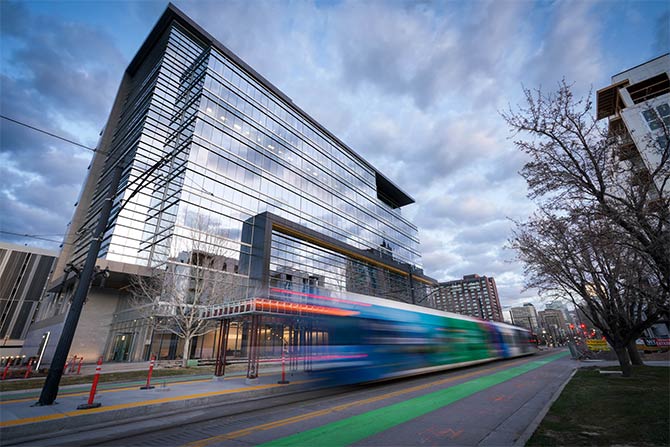 HOME IMPROVEMENT GROWTH BRINGS REGIONS BANK NAME TO SALT LAKE
Regions Bank's home improvement lending division, EnerBank USA, officially opened new offices on the top three floors of 650 Main in Salt Lake City. Founded in 2002, EnerBank became part of Regions in October 2021, accelerating Regions' focus on serving as the premier bank lender to homeowners. EnerBank provides point-of-sale financing options through a network of contractors nationwide, giving homeowners seamless financing solutions for home improvements ranging from planned renovations, expansions, and upgrades to emergency needs. The acquisition of EnerBank by Regions complements investments Regions has also made in its mortgage and digital home equity lending solutions.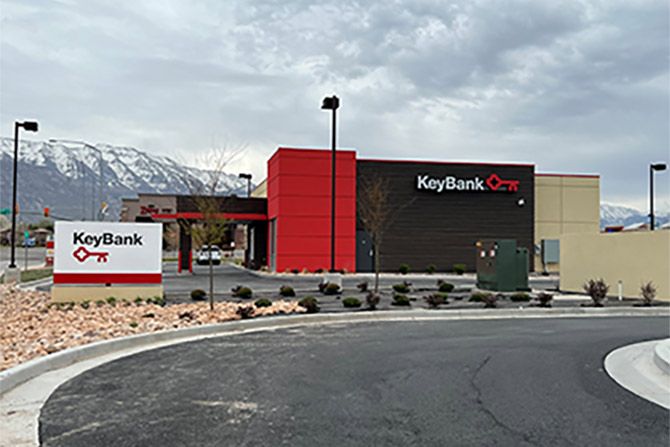 KEYBANK OPENS NEW BRANCH IN AMERICAN FORK
KeyBank has opened a new branch in American Fork, the first new KeyBank branch in the western half of the U.S. in more than 10 years. Construction was completed in April, and doors opened to the public on May 9.
The new, full-service branch – located at 717 West Main in American Fork – highlights KeyBank's state-of-the-art financial wellness center model, which is staffed with financial wellness consultants rather than a traditional teller line. All transactions will be completed at desks, where consultants will conduct comprehensive financial wellness reviews and discussions. Clients can also meet with specialists in mortgage, investments, business banking and more at the new location.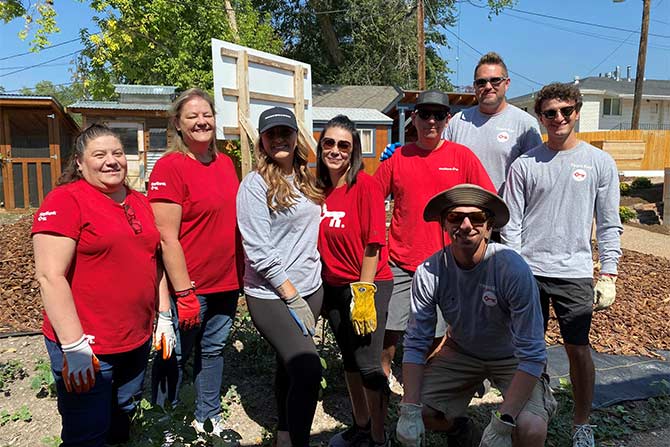 KEYCORP ISSUES 2021 ENVIRONMENTAL, SOCIAL,
AND GOVERNANCE REPORT
Highlighting its purpose to help clients and communities thrive, KeyCorp recently released its 2021 Environmental, Social, and Governance (ESG) Report. The report includes expanded commitments from Key to help drive climate action and increase the representation of people of color in its senior leadership ranks.
Key also announced that it surpassed the five-year goals of its National Community Benefits Plan. Through the plan, Key has provided more than $26 billion focused on economic access and equity. These investments and lending included affordable housing, home lending, small business lending, and transformative philanthropy targeted toward workforce development, education, and safe, vital neighborhoods for underserved communities and populations.
Since 2017, KeyBank has invested more than $1.064 billion in the Utah Market, including the following investments through Dec. 31, 2021:
More than $689 million in affordable housing and community development projects
More than $219 million in small business loans to businesses that are part of low- and-moderate income communities
More than $155 million in mortgage lending to low- and moderate-income communities in Utah
More than $1.2 million in transformational philanthropic investments in neighborhoods in Utah
KEYBANK ACQUIRES FINTECH GRADFIN
KeyBank has announced the acquisition of GradFin, one of the nation's leading Public Service Loan Forgiveness (PSLF) counseling services. GradFin provides students access to free consultations with student loan experts, helping them understand their options through student loan forgiveness, refinancing, or a combination of both.
Key's acquisition of GradFin will be particularly beneficial to nurses and other healthcare professionals who utilize Laurel Road, KeyBank's digital banking platform that provides tailored offerings to support the financial wellbeing of healthcare and business professionals.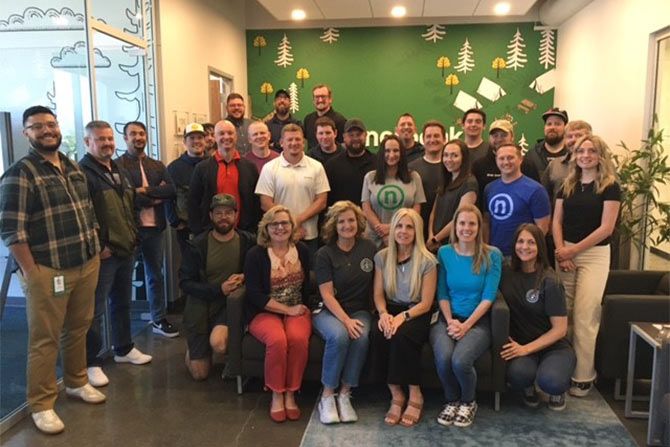 NELNET BANK LAUNCHES NEW PRIVATE STUDENT LOAN PRODUCT
Nelnet Bank launched Nelnet Bank Private Student Loans, a new offering that gives college students a flexible option to fulfill their college funding needs and achieve their educational dreams. With dedication and collaboration, Nelnet Bank reached its goal of launching a product that offers, accepts, and funds in-school
private student loans through one seamless originations portal. The timing of the launch puts the new product offering in front of students and their families in time to begin making financial preparations for the upcoming fall semester.

With a range of packages for undergraduate, graduate, MBA, law, and medical students, Nelnet Bank's program provides competitive rates, auto-debit savings, no upfront costs, and flexible repayment options to help students fill gaps in their college funding when federal loans are not enough. And Nelnet offers even more information and tools to help students make well-informed decisions and understand all their financing options, including a newly designed website and a College Major Calculator (ROI) tool that shows students how their major compares to similar fields of study in several key metrics including average debt, average income, and the average cost of living.
STATE BANK OF SOUTHERN UTAH
FINANCIAL LITERACY MONTH PROMOTION
State Bank of Southern Utah ran a promotion for all High Schools in Southern and Central Utah during April. Students had to complete a financial education module about budgeting through the sbsu.com website and submit a 500-word paper on why a budget is important. Upon completion, students were entered to win an Oculus 2 virtual reality set. Over 60 students from 20 different high schools participated in the promotion, and in May, two students were selected as winners and presented their prizes.
Through its financial education program, Dollars & Sense, State Bank of Southern Utah continues to reach out to High Schools to promote the importance of Financial Education.
TAB BANK LAUNCHES NEW ONLINE AND MOBILE PLATFORM, CREATES FOUNDATION FOR ENHANCED CUSTOMER EXPERIENCE AND FUTURE CAPABILITIES
TAB Bank announced the launch of its latest online and mobile platform, ushering in a new era of customer experience and future capabilities for businesses and consumers. The new banking external interface and back-end platform create a consistent experience between mobile and online banking and gives customers complete control over their interactions and account views.
Behind the scenes, the platform enables easier connections to new products and features with integrations to third-party apps, faster creation of new accounts, and the ability to track outside funds. Completing this platform moves TAB Bank toward banking as a service model, creating new capabilities to leverage TAB Bank accounts in everyday life.

Opening a new account with TAB Bank is now simpler and easier. Customers can be up and running with a TAB Bank
account in a matter of minutes. Through third-party apps, the bank can offer almost unlimited potential service offerings.

Individual customer accounts will see the new interface immediately. Business accounts will have access to these features in the future. The bank anticipates more product and service announcements over the next few months.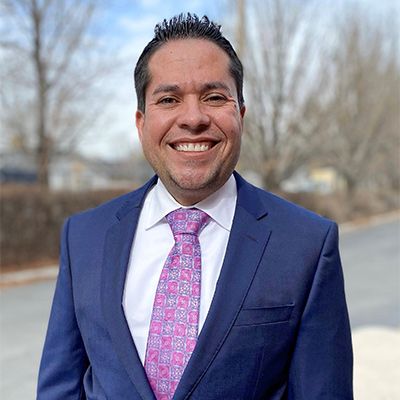 U.S. BANK'S MARLON MORALES RECOGNIZED AS
MOFI 2021 UTAH LENDER OF THE YEAR

On May 11, U.S. Bank Salt Lake City business banking
relationship manager Marlon Morales accepted one of MoFi's 2021 Utah Lender of the Year Awards, while U.S. Bank was named Utah Partner of the Year. MoFi is a nonprofit organization that provides financing and consulting for small business owners. They offer micro-loans and work with entrepreneurs over a one-to-three-
year period to qualify for traditional loans.
"Say I have a customer who doesn't qualify for a traditional loan because the revenue or cash flow is not there. I will refer that customer to MoFi, who can help with a loan request right now, but their goal is to help get you to a point where you can qualify for a traditional loan," Morales said. The partnership began eight months ago, but Morales has already referred more than 40 business banking customers. For any customer he refers, MoFi sends them back to U.S. Bank once they've completed the program.
"Every Tuesday, I teach a class for Spanish-speaking business owners at an organization called Suazo Business Center," Morales said. "It's been a great way to bring new customers into the bank, as many of the people in the classes don't have accounts with us but decide to become a customer because of the interaction."
Morales looks forward to helping business owners as they complete MoFi's program and growing the relationship with the organization to benefit customers.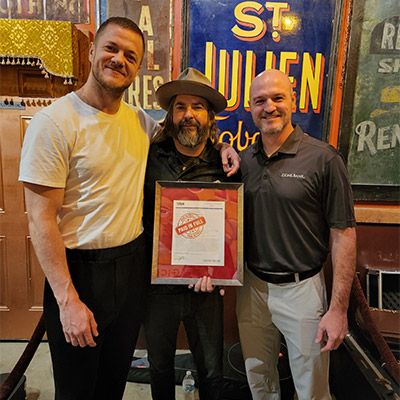 ZIONS BANK, IMAGINE DRAGONS TEAM UP TO SAVE ICONIC MUSIC VENUE
Zions Bank teamed up with Imagine Dragons to save the beloved Provo music venue where Imagine Dragons and Neon Trees started.
After learning Velour Live Music Gallery was struggling during the pandemic, Imagine Dragons live-streamed a YouTube benefit concert with Neon Trees, calling on fans to donate. Zions Bank matched those donations, enough to pay off the balance on Velour's mortgage.
In May 2022, during Velour's 16th-anniversary celebration, Imagine Dragons lead vocalist Dan Reynolds and Zions Bank region president Nick Whiting presented Velour owner Corey Fox with the promissory mortgage note to the building, stamped "paid in full."

"Velour has done so much to help build a vibrant downtown and put Provo on the music map," Whiting said. "Zions Bank is proud to support the generous efforts of Imagine Dragons, Neon Trees, and so many community members to preserve this local treasure."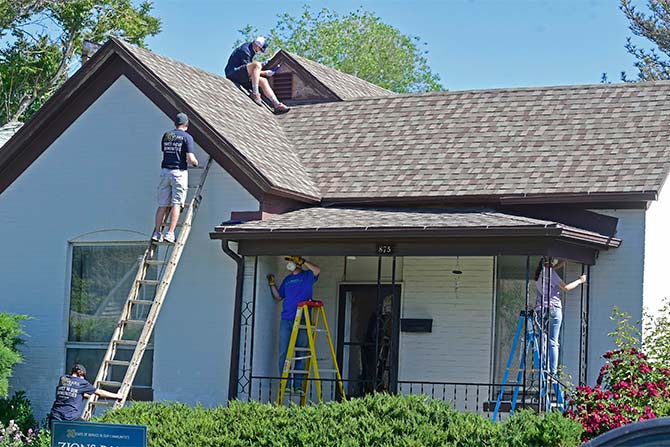 PAINT-A-THON
Thirty homes across Utah and Idaho received a fresh coat of paint and a landscaping lift during Zions Bank's 30th annual Paint-a-Thon service project.
More than 1,600 local bank employees and their family members rolled up their sleeves to clean, scrape and paint the homes of elderly, disabled and veteran homeowners. In addition to painting, Zions employees provide yard clean-up, pruning, mowing, planting, and minor repairs as needed by homeowners. The cost for
all paint and supplies was contributed by Zions Bank.

The average age of this year's homeowner was 75, with an average yearly income of $24,489. Projects completed during the annual week-long event were selected with the assistance of nominations from the public, state housing agencies, community organizations and local churches.
Launched in 1991, Zions Bank's Paint-a-Thon began as a volunteer project for a dozen homes along Utah's Wasatch Front. Over the three decades, Zions Bank employees have set aside summer pastimes for a week each year – volunteering in the evenings after work and on Saturday – to paint 1,221 homes throughout Idaho and Utah. Not counting the dollar value of volunteer hours through the years, the bank has donated more than $1.3 million toward beautifying homes in the two states.