Congratulations to the 2021 graduates of UBA's Executive Development Program, who were honored at the Bank Executive Winter Conference at the Little America December 3. This was the ninth year of the program, and this year's class of 36 joins an elite group of 225 EDP alumni in the state.
EDP is a challenging commitment in and of itself, but things were intensified with the added layer of a global pandemic. Classes started virtually via Zoom before moving to a hybrid model, and this group continually showed incredible resilience and dedication to get the most out of the program.
It is very clear that this class has what it takes to lead the industry into a very bright future!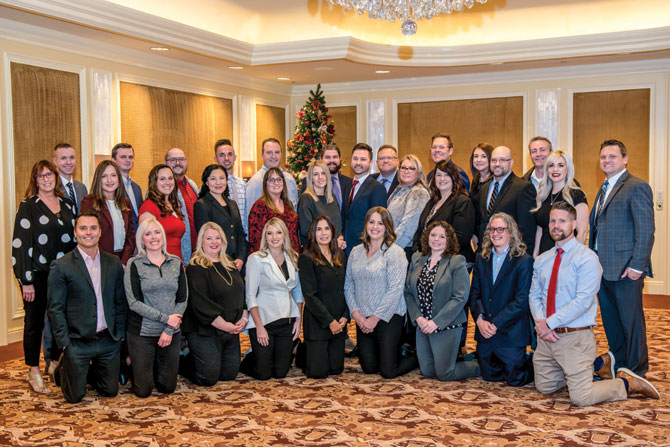 Ben Blume – VP Relationship Manager, TAB Bank
Jeff Bosgraaf – SVP, Sales/Vendor Management, FPS GOLD
Niki Christensen – Chief Compliance Officer, Central Bank
Trenna Farr – VP, Collections Manager, EnerBank USA
Matt Ford – VP Branch Manager, First Community Bank
Jin Gibbons – SVP, Retail Product Manager, Zions Bank
Todd Guymon – Branch Manager/Vice President, Rock Canyon Bank
Spencer Hall – BI Manager, TAB Bank
Brooke Hampton – VP, Compliance Manager, State Bank of Southern Utah
Jeff Hansen – AVP, Customer Experience and Commercial Banking, TAB Bank
Tyler Hardy – Assistant Manager, Central Bank
Leanne Hartman – SVP Retail Division Manager, First Community Bank
Aaron Heaps – Chief Information Officer, Medallion Bank
Jake Hoyt – Vice President Branch Manager, Rock Canyon Bank
Matt Johnson – SVP, Sponsor Finance, Zions Bank
Chris Linford – SVP/Chief People Officer, Altabank
Paula Marsh – VP & Controller, TAB Bank
Doug Monroe – Controller, Utah Independent Bank


Staci Mumford – AVP, Strategic Partnership Compliance, TAB Bank
Justin Norris – Leasing Officer, First Utah Bank
Mike Padovich – Vice President Branch Manager, First Community Bank
Kaylene Parsons – Utah North Central District Manager, Wells Fargo
Heidi Prokop – SVP, Marketing and Communications, Zions Bank
Beckie Reynosa – VP Relationship Manager, Bank of Utah
Tiffany Ringel – Sr. Compliance Manager, WebBank
David Rusch – VP Retail Banking Manager, Bank of Utah
Lacey Sansavera – Director of Retail Banking, Rock Canyon Bank
Alicia Schindewolf – SVP – Community Banking Sales Manager, Zions Bank
Jessica Sorensen – VP – Project Manager, Zions Bank
Rusty Tatton – AVP & Compliance Manager, EnerBank USA
Deone Thornton – 1st Vice President, Consumer Lending, State Bank of Southern Utah
Trent Wardrop – Senior VP of Marketing, Celtic Bank
David Wenk – Senior Vice President & Regional Director, Zions Bank
Ben West – SVP, Director, Zions Bancorporation
Brian Zern – Executive Vice President, Celtic Bank
Classes for the 2022 Executive Development Program start January 20, and there are limited spots still available. Register now at Utah.bank or by emailing Becky Wilkes at bwilkes@utah.bank.