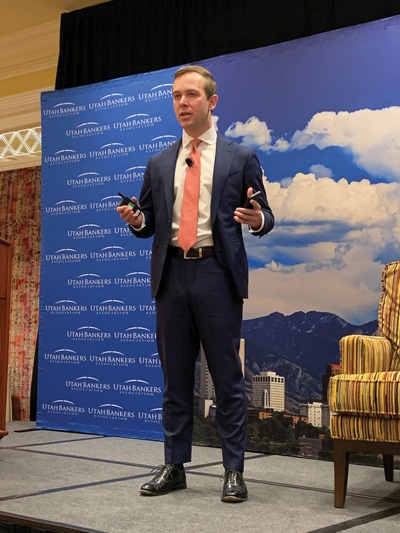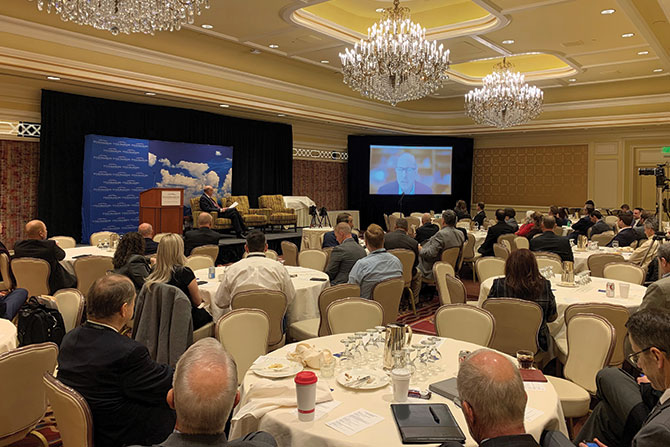 Bank executives from all over the state met for the 11th Annual UBA Bank Executive Winter Conference, titled "The New Year Risk Radar." Following a virtual conference last year, it was wonderful to convene in person at the Little America in Salt Lake City, to look ahead at emerging trends and risks for the industry.
UBA Chairman Eric Schmutz welcomed attendees and introduced the day's first speaker — ABA President & CEO Rob Nichols — who joined the proceedings via Zoom from Washington, D.C. Rob provided updates on the latest happenings in Washington, and answered questions from the audience, including queries about new charters and crypto.
Next up was a distinguished panel of regulators, including Ed Leary (Commissioner, Utah Department of Financial Institutions), Dixie Claybrook (Associate Deputy Comptroller for the West District, OCC), Kendra Hartnett (Senior Risk Specialist, Federal Reserve), and Kenneth Justice (Field Supervisor, Risk Management Supervision), moderated by UBA President Howard Headlee. The big takeaways from the group were that the industry showed incredible resilience through the pandemic serving the needs of the community, and that cybersecurity and ransomware attacks should be a major focus through the holidays and into the new year.
Dr. Paul Godfrey — the William and Roceil Low Professor of Business Strategy in the Marriott School of Management at Brigham Young University — gave a talk about the importance of trust in building strong executive teams. He also introduced the Society of Bank Executives, a resource that will provide bank leaders with opportunities to build vibrant peer networks and enhance critical leadership competencies to thrive in the rapidly changing banking landscape. Stay tuned for more information.
Then Rob Morgan, Senior Vice President at the ABA, gave a fascinating overview of innovation and trends in banking and beyond. He discussed the rise of big tech and Fintech companies, stressing that banks should focus on ownership of the customer relationship by maintaining trust and continuing to deliver a great customer experience.
During the lunch break, graduates of this year's Executive Development Program graduates were honored (see Executive Development Program Class Of 2021).
The day was closed out by Cam Marston from Generational Insights, who joined the conference via Zoom. Cam is the leading expert on generational characteristics and differences, and he talked about their impact on the workplace and marketplace.
Save the date for next year's conference — Dec. 2, 2022!